Westward II : Heroes of the Frontier is the second installment of the Westward series .
Set after the previous game, the town of Hope River is suddenly destroyed. Fleeing residents bring tales of Doc Vostrikov, the "Mad Russian", who once again tries to stop further expansion with the help of his cronies—the Copperhead Gang. Three pioneers help these refugees find new homes and expand into new communities by establishing new settlements.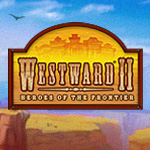 The player controls one of the three pioneers, each giving a special bonus in game. The game starts with the hero, that expands the city by building using wood and gold. When achieving certain goals , the player receives rewards. As the story progresses, new characters will come, giving new missions and tasks.
There are two cities where the story takes place, Oxbow Bend and Gunslinger Gulch. The player requires experience points to unlock new buildings, which are used to expand the city. By hiring gunslingers, sheriffs and deputies the player must protect the city from bandits. The game also has secrets like hidden treasures, a new animal at the ranch, new buildings , ferocious animal and many more.
The game also features a sandbox mode, which can be played in two modes: "Open Range" and "Disaster Challenge". In Open Range, all buildings are unlocked from the start, while in Disaster Challenge, disasters like tornadoes, earthquakes, fires and bandit attacks take place. The player must unlock new buildings using the experience and resources he/she receives as the difficulty increases.
External Links
Edit